Bienvenue à la mise à jour des ventes du week-end de Costco Québec où je vous tiendrai au courant des ventes impressionnantes et des nouveaux articles que Costco lance pour le week-end !
Welcome to the Costco Quebec Weekend Sales Update where I'll keep you in the loop on the awesome sales & new items Costco releases for the Weekend!
Veuillez noter:
Le prix chez votre Costco local a priorité (ou préséance) sur les prix indiqués sur ce blog.

Les articles Costco Liquidation/Manager's Special (se terminant par .97) varient d'un magasin à l'autre.

Un astérisque (*) sur l'étiquette de prix signifie que l'article n'est pas en cours de réapprovisionnement.
Please note:
The price at your local Costco takes precedent (or precedence) over the prices listed on this blog.Costco liquidation/Manager's Special items (ending in .97) vary from store to store.
An asterisk (*) on the price tag means the item is not being re-ordered.
S'il y a quelque chose que vous voulez vraiment, *** vérifiez la date d'expiration *** car certains articles en vente Costco se terminent en milieu de semaine. *** Il s'agit d'une page indépendante gérée par des fans, sans affiliation ni approbation par Costco Wholesale ***
If there is something you really want, ***double check the expiry date*** as some Costco sales items do end mid-week.
***This is a fan run, independent page with no affiliation or endorsement by Costco Wholesale***
If you'd like to skip ahead to the comments section, click here!
ENGLISH TO FOLLOW:
Méduse.
Petit poisson.
Coquilles.
Algues.
Ce sont toutes des choses que nous voyons en vacances dans le sud.
Depuis que j'élevais mes enfants, il y a eu une augmentation de la population mangeant des algues.
Mes petits-fils en mangent tous comme si c'était des chips.
Je les regarde avec intérêt mais je n'arrive pas à me joindre à la fête.
Les avantages sont nombreux, selon le Dr Jack Wolfson de l'Arizona.
Certains des avantages qu'il suggère sont pour n'en nommer que quelques-uns;
Ils sont une bonne source de protéines
Ils renforcent l'immunité
Ils peuvent réduire l'inflammation
Ils abaissent la tension artérielle
Ils détoxifient les métaux lourds
Les algues sont bonnes pour la désintoxication du foie
Ils peuvent aider au contrôle de la glycémie
Les enfants ne savent pas qu'ils mangent des collations saines;
ils creusent juste.
Le paquet disponible chez Costco est facilement transporté, ce qui en fait une collation amusante à emporter.
Je suppose que je dois monter à bord malgré mon état d'esprit.
Je ne peux pas m'empêcher d'associer les trucs verts avec de la crème solaire et du sable !!
ENGLISH:
Jellyfish. Little fish. Shells. Algae. These are all things we see when on vacation down south. Since I was raising my children, there has been a surge in the population eating Algae. My grandsons all eat it like it's a potato chip. I watch them with interest but can't seem to join the party. 
The benefits are numerous, according to Dr. Jack Wolfson from Arizona. Some of the benefits he suggests are to name only a few;
They are a good source of protein
 They boost immunity
They can lower inflammation 
They lower blood pressure
 They detox heavy metals 
Algae is good for liver detoxification
 They can aid in blood sugar control
The kids don't know they are eating healthy snacks; they just dig in. The package available at Costco is easily transported, making it a fun on-the-go snack.  I guess I have to get on board with it despite my mindset.  I can't help but associate the green stuff with suntan lotion and sand!!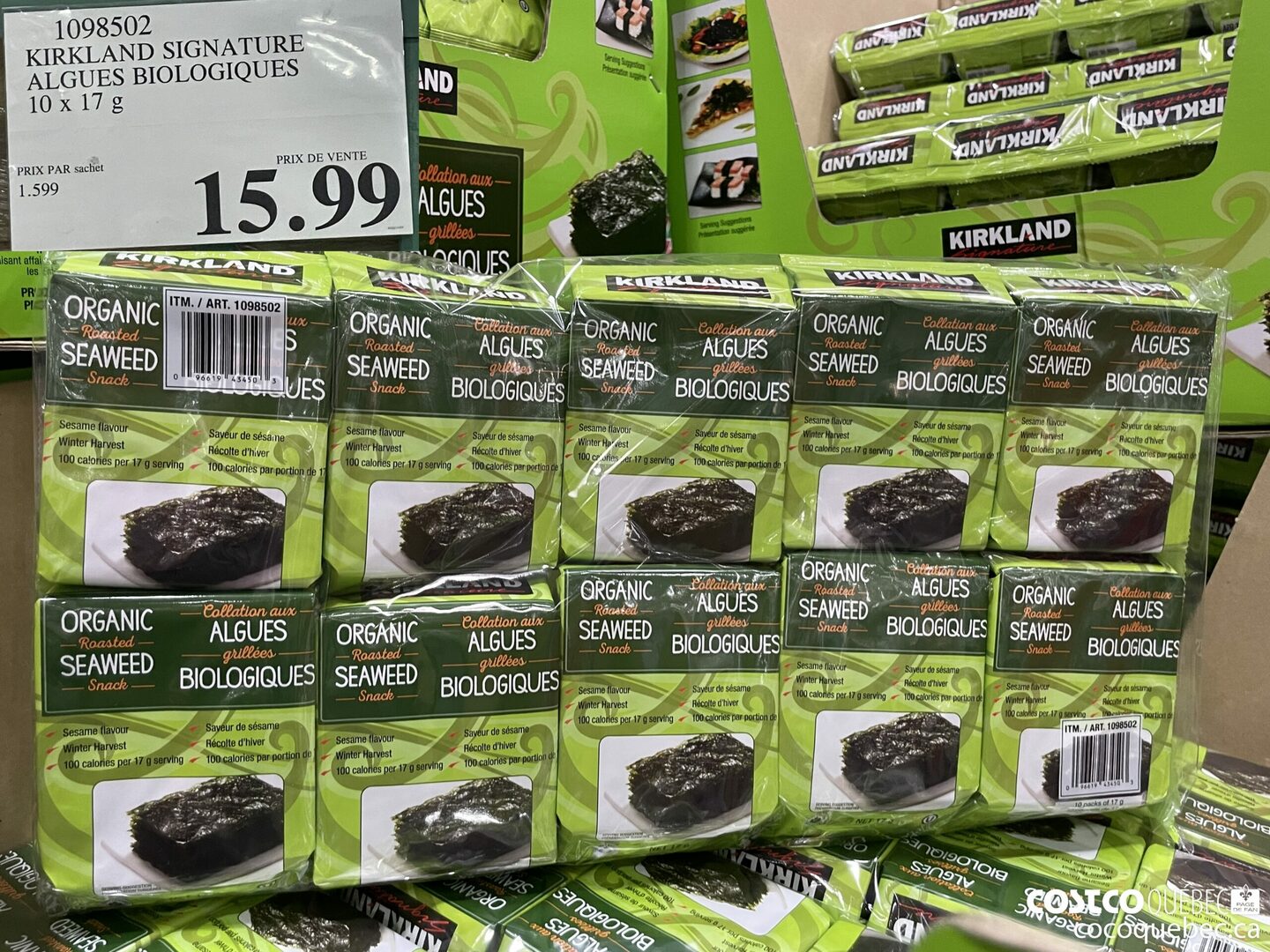 Costco Circulaires Ventes 7 nov. au 13 nov. Québec

/Costco Flyer Sales Nov 7th to Nov 13th Quebec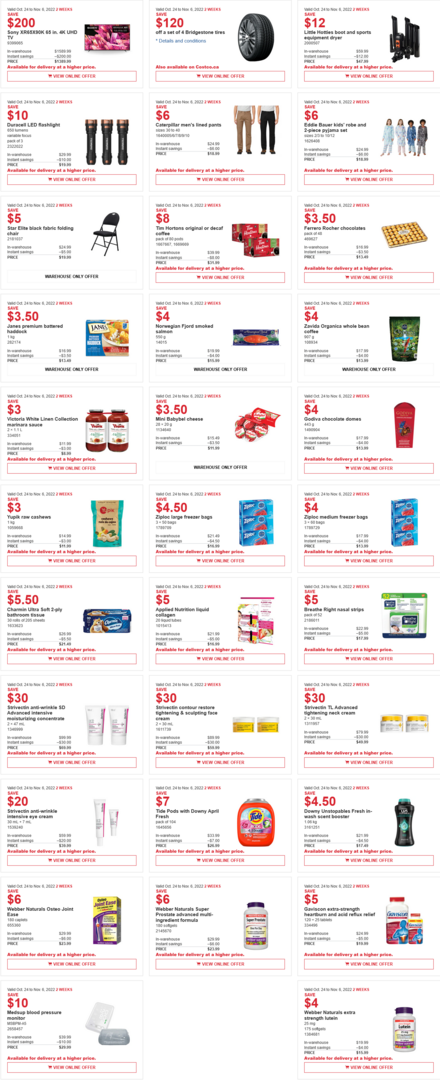 Fin de semaine Costco Soldes 7 nov. au 13 nov. Québec /Costco weekend Sales Nov 7th to Nov 13th Quebec