ENGLISH TO FOLLOW:
Je parcoure tout le magasin pour vous tous les lundis lorsque les articles Costco Sale et les ventes Costco Flyer sont publiés pour la semaine, puis je les publie ici et sur notre page Facebook.
*** Il s'agit d'une page indépendante gérée par des fans, sans affiliation ni approbation par Costco Wholesale ***
Veuillez noter : Le prix chez votre Costco local a préséance (ou préséance) sur les prix indiqués sur ce blog. Les articles Costco Liquidation/Manager's Special (se terminant par .97) varient d'un magasin à l'autre. Un astérisque (*) sur l'étiquette de prix signifie que l'article n'est pas en cours de réapprovisionnement.
S'il y a quelque chose que vous voulez vraiment, *** vérifiez la date d'expiration *** car certains articles en vente Costco se terminent en milieu de semaine.
**** POUR PASSER AUX VENTES, CLIQUEZ SUR CE LIEN

****
Si vous souhaitez passer directement à la section des commentaires, cliquez ici !
_______________________________
I walk the whole store for you every Monday when Costco Sale items and Costco Flyer sales are released for the week, then post them here and on our Facebook page.
***This is a fan run, independent page with no affiliation or endorsement by Costco Wholesale***
Please note: The price at your local Costco takes precedent (or precedence) over the prices listed on this blog. Costco liquidation/Manager's Special items (ending in .97) vary from store to store. An asterisk (*) on the price tag means the item is not being re-ordered.
If there is something you really want, ***double check the expiry date*** as some Costco sales items do end mid-week.
If you'd like to skip ahead to the comments section, click here!
Il est plus difficile qu'on ne le pense de parcourir les allées de Costco et d'en sortir sans quelque chose. Je fais ça depuis plus d'un mois maintenant. Sortir sans un seul achat n'est arrivé qu'aujourd'hui. Je suis très excité. La plupart de mes achats de Noël sont terminés, ainsi qu'une grande partie de mes repas de Noël !!!!
Les biscuits de Noël abondent, ce qui rend l'apport calorique d'un Costco Québec Bloggeuse de Fan un peu coûteux. Je compte mes pas, cependant, ce qui me vaut une certaine rétribution .lol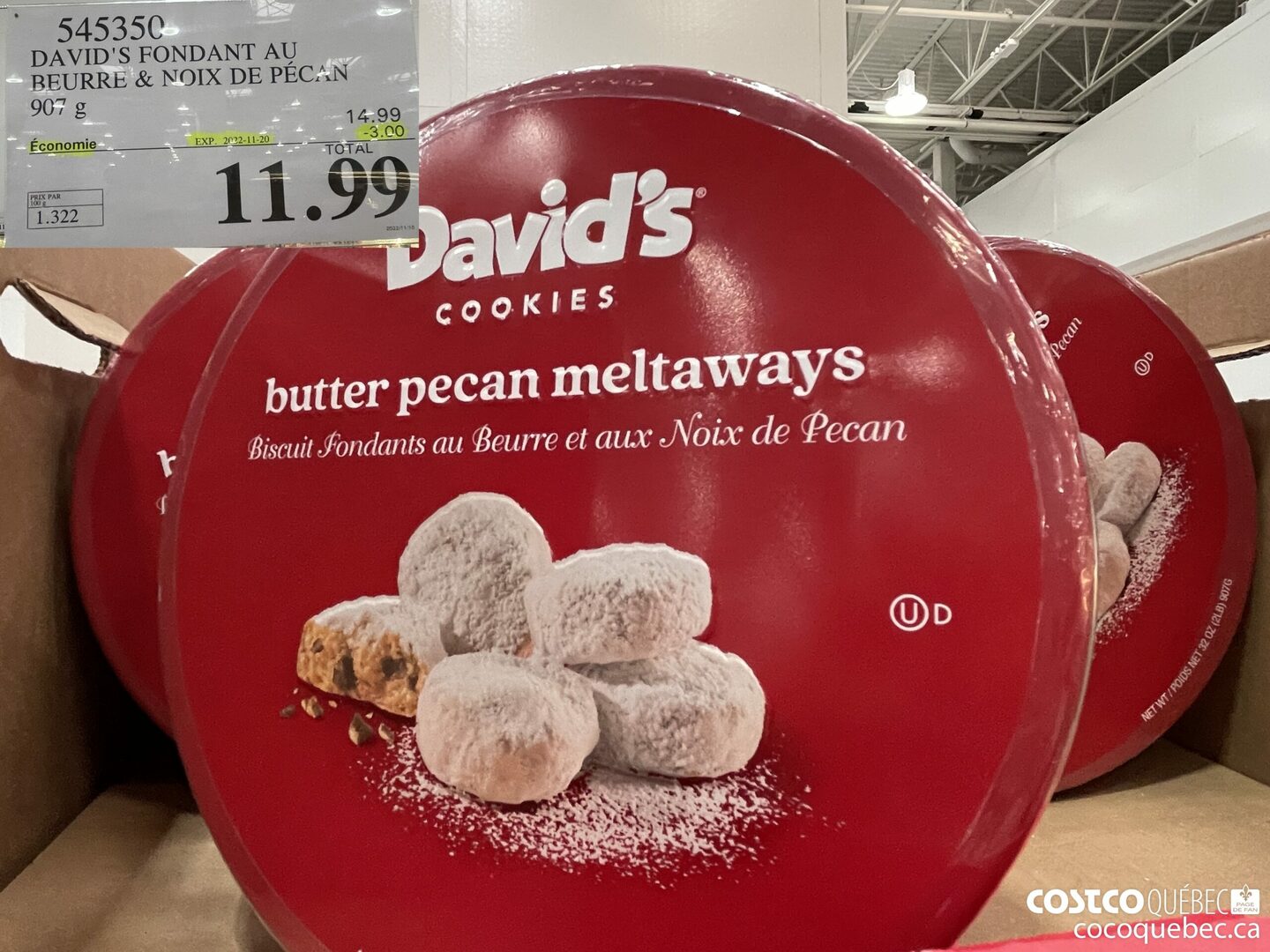 Certaines des friandises que j'ai essayées ces dernières semaines incluent un plateau de biscuits de Noël Pillsbury… tout le plateau. Les biscuits au beurre DAVID qui fondent dans la bouche sont hors de contrôle. Vous pouvez réutiliser le conteneur si cela vous aide. Je ris aux éclats en tapant ceci.
Costco a ce qu'il vous faut si quelqu'un a envie d'une voiture et veut conduire une Lamborghini rouge. Voici la version la plus mignonne que j'ai jamais vue. Vous devrez peut-être vous battre contre les enfants du terrain de jeu pour votre place de parking, mais une Lamborghini est une Lamborghini.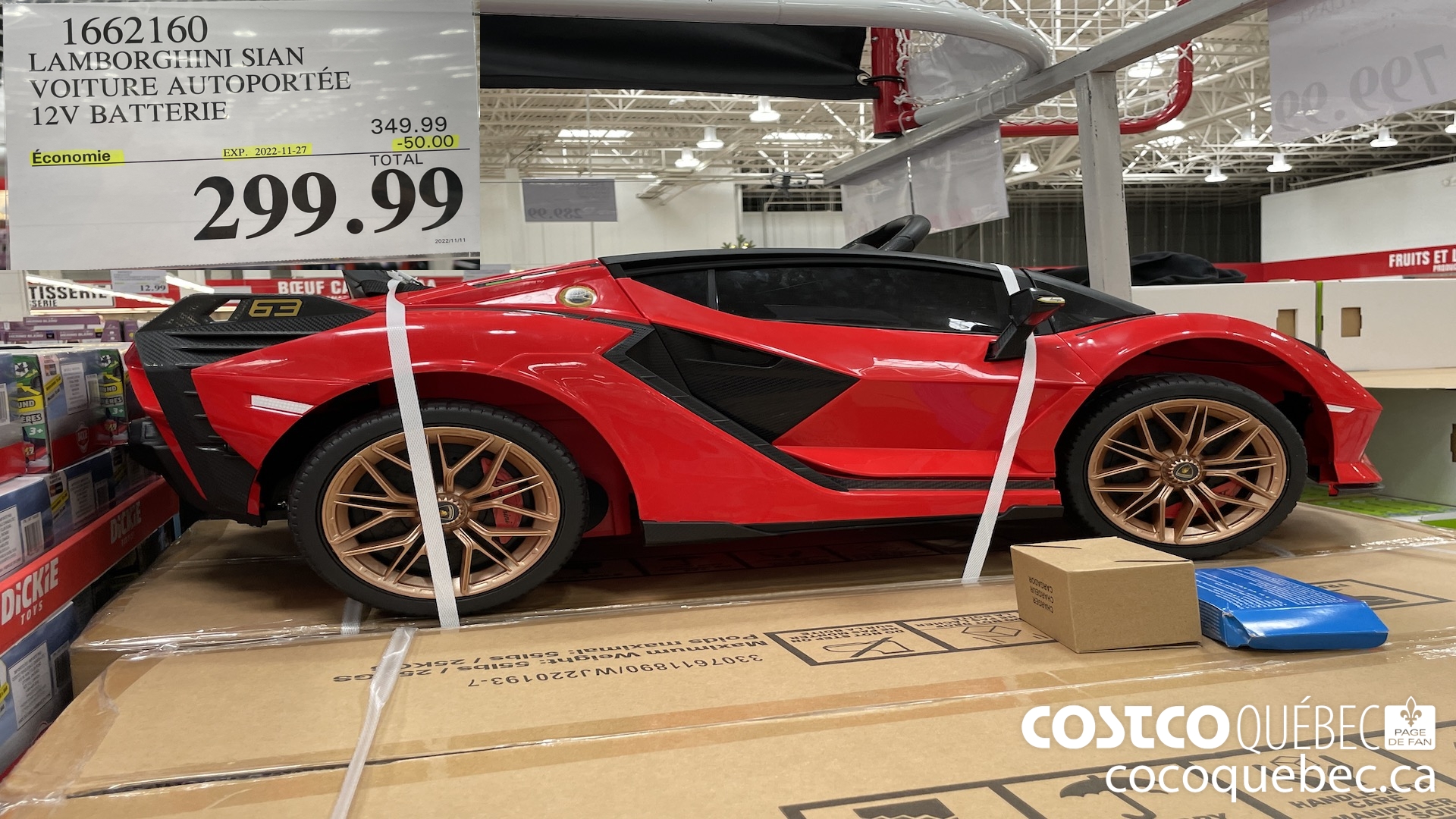 It is more challenging than one might think to scour the aisles of Costco and come out without something. I have been doing this for over a month now. Getting out without one purchase only happened today. I get very excited. Most of my Christmas shopping is done, along with much of my Christmas eating!!!!
Christmas cookies abound, making the caloric intake for one Costco Quebec Bloggeuse de Fan a little costly. I do count my steps, though, which achieves some retribution .lol
Some of the treats I have tried in recent weeks include a tray of Pillsbury Christmas cookies…. the whole tray. The David melt-in-your-mouth butter cookies in the tin are out of control. You can reuse the container if that helps. I am laughing out loud as I type this.
Enough joking…
Costco has you covered if anyone has had car envy and wanted to drive a red Lamborghini. Here is the cutest version I have ever seen. You may have to battle the playground kids for your parking space, but a Lamborghini is a Lamborghini.
Ventes de circulaires Costco

/Costco Flyer Sales Nov 14 to 20 2022