Bienvenue à la mise à jour des ventes du week-end de Costco Québec où je vous tiendrai au courant des ventes impressionnantes et des nouveaux articles que Costco lance pour le week-end !
Welcome to the Costco Quebec Weekend Sales Update where I'll keep you in the loop on the awesome sales & new items Costco releases for the Weekend!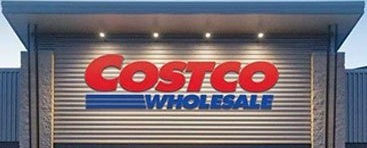 Veuillez noter:
Le prix chez votre Costco local a priorité (ou préséance) sur les prix indiqués sur ce blog.

Les articles Costco Liquidation/Manager's Special (se terminant par .97) varient d'un magasin à l'autre.

Un astérisque (*) sur l'étiquette de prix signifie que l'article n'est pas en cours de réapprovisionnement.
Please note:
The price at your local Costco takes precedent (or precedence) over the prices listed on this blog.Costco liquidation/Manager's Special items (ending in .97) vary from store to store.
An asterisk (*) on the price tag means the item is not being re-ordered.
S'il y a quelque chose que vous voulez vraiment, *** vérifiez la date d'expiration *** car certains articles en vente Costco se terminent en milieu de semaine. *** Il s'agit d'une page indépendante gérée par des fans, sans affiliation ni approbation par Costco Wholesale ***
If there is something you really want, ***double check the expiry date*** as some Costco sales items do end mid-week.
***This is a fan run, independent page with no affiliation or endorsement by Costco Wholesale***
ENGLISH TO FOLLOW
J'aime la propagation de l'amour qui accompagne la Saint-Valentin, et je peux voir que Costco se prépare pour les vacances de l'amour. Ces mignons petits macrons sont la friandise parfaite, généralement sans gluten, mais vérifiez toujours. Je vois très clairement le chemin vers la Saint-Valentin. Mon protocole de désintoxication de six semaines sera terminé et j'ai l'intention de manger une de ces friandises. J'ai envisagé de les acheter pour économiser jusqu'à la fin de mon protocole, mais j'ai pensé mieux. Je ne sais pas s'ils se congèleront bien. Si vous les avez congelés, faites le moi savoir.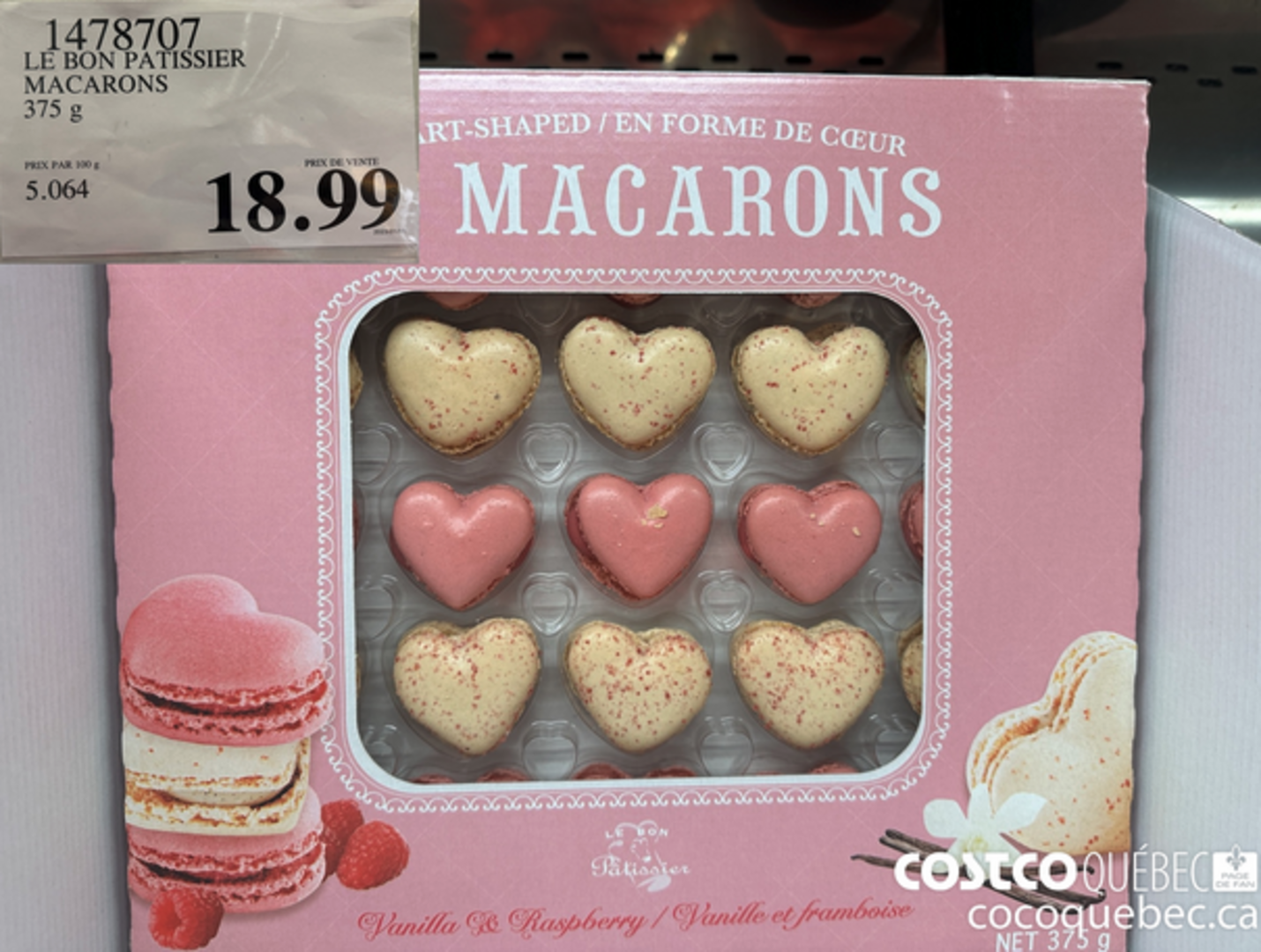 Le prochain sur ma liste de trouvailles fabuleuses est ces collations au fromage végétaliennes Babybel. Je les ai essayés et je suis heureux d'annoncer qu'ils sont délicieux. Ils ont presque le goût du fromage à la crème mais ont une texture de mozzarella douce. Ils s'intègrent parfaitement au protocole du non laitier. Un bon choix pour les enfants qui peuvent ne pas tolérer les produits laitiers. L'emballage est identique aux versions régulières, ce qui peut être utile dans un environnement de salle à manger où d'autres enfants mangent la version standard avec des produits laitiers. Il est déjà assez difficile de retirer une catégorie importante de votre alimentation à l'âge adulte. Les enfants n'ont pas nécessairement la patience de manger ce qui est le plus sain, même si on leur dit que cela guérira tout ce qu'ils traversent.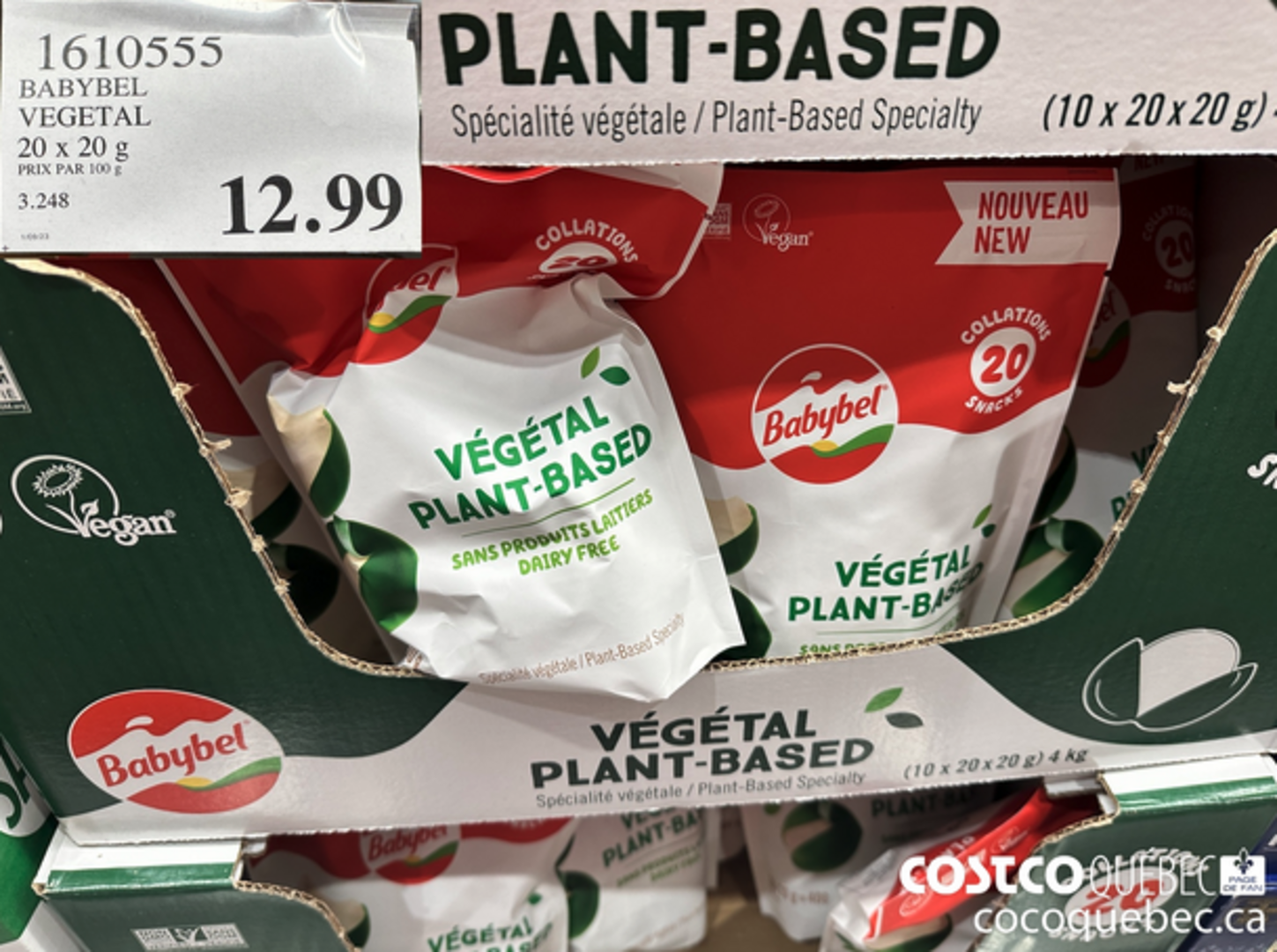 I love the spreading of love that comes with Valentine's Day, and I can see Costco is gearing up for the holiday of love. These cute little macrons are the perfect treat, usually gluten-free but always check. I can see the path to Valentine's Day very clearly. My six-week detox protocol will be over, and I intend to eat one of these treats. I considered buying them to save until my protocol ended, but I thought better. I don't know if they will freeze well. If you have frozen them, let me know.
Next on my list of fabulous finds is these Babybel vegan cheese snacks. I tried them and am happy to report they are delicious. They taste almost like cream cheese but have a texture of a soft mozzarella. They fit perfectly with the protocol of no dairy. A good choice for children who may not tolerate dairy. The packaging is identical to the regular versions, which can be helpful in a lunchroom environment where other children eat the standard version with dairy. It is hard enough to have a significant category lifted from your diet as an adult. Children don't necessarily have the patience to eat what is most healthy, even if they are told it will heal whatever they are working through.
Ventes de circulaires Costco/Costco Flyer Sales 2 au 31 janvier