In the Wednesday Super Post I pick an 
entire
 section of Costco and take pictures of 
ALL
of the items for you see.
Veuillez noter:
Le prix chez votre Costco local a priorité (ou préséance) sur les prix indiqués sur ce blog.
Les articles Costco Liquidation/Manager's Special (se terminant par .97) varient d'un magasin à l'autre.
Un astérisque (*) sur l'étiquette de prix signifie que l'article n'est pas en cours de réapprovisionnement.
S'il y a quelque chose que vous voulez vraiment, *** vérifiez la date d'expiration *** car certains articles en vente Costco se terminent en milieu de semaine.
*** Il s'agit d'une page indépendante gérée par des fans, sans affiliation ni approbation par Costco Wholesale ***
ENGLISH TO FOLLOW:
Créé pour rehausser l'expérience de cuisson au charbon de bois, ce gril fait passer votre jeu de grillades au niveau supérieur. Avec 250 pouces carrés d'espace de cuisson maximum, cette beauté dispose d'un système de cuisson flexible Divide & Conquer® à 2 niveaux pour cuire divers aliments à différentes températures et d'un tiroir à cendres breveté simplifiant le nettoyage.
Selon le site Web de Kamando Joe, les propriétés isolantes de la céramique, les kamados au charbon de bois sont d'excellents fumeurs en termes de puissance de cuisson et d'efficacité énergétique. Ils peuvent fumer jusqu'à 18 heures avec une petite charge de charbon de bois (et beaucoup plus longtemps avec des charges complètes), ce qui en fait de loin les fumeurs les plus économiques.
Tout ce que je sais, c'est que nous rôtissons des guimauves à la fin avec un gril à charbon de bois sur un gril à gaz. Dan est responsable du barbecue et il adore celui-ci.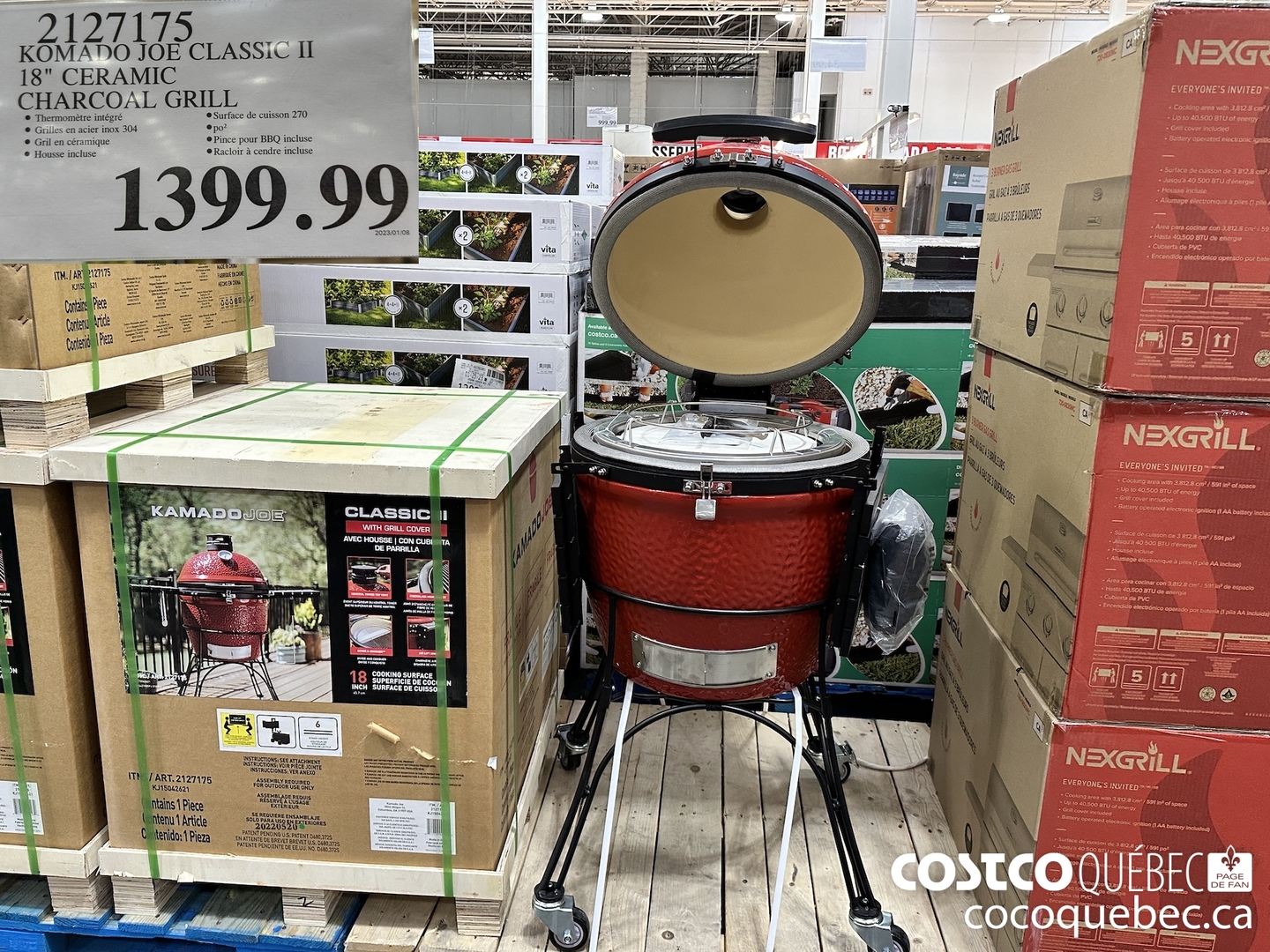 Created for elevating the charcoal grilling experience, this grill brings your grill game to the next level. With 250 square inches of maximum cooking space, this beauty has a 2-Tier Divide & Conquer® Flexible Cooking System for cooking various foods at various temperatures and a patented Ash Drawer simplifying clean-up.
According to the Kamando Joe website, the insulative properties of ceramic, charcoal kamados are great smokers in terms of both cooking power and fuel efficiency. They can smoke for up to 18 hours on a small load of charcoal (and much longer on full loads), making them the most economical smokers by far.
All I know is that we an roast marshmallows at the end with a charcoal grill over a gas grill. Dan is in charge of the BBQ and he loves this one.
Costco Flyer, Valide du 30 janv. au 26 févr. 2023