Dans le Super Post du mercredi, je sélectionne une section entière de Costco et prends des photos de TOUS les articles pour que vous voyez !
In the Wednesday Super Post I pick an 
entire
 section of Costco and take pictures of 
ALL
of the items for you see.
Veuillez noter:
Le prix chez votre Costco local a priorité (ou préséance) sur les prix indiqués sur ce blog.
Les articles Costco Liquidation/Manager's Special (se terminant par .97) varient d'un magasin à l'autre.
Un astérisque (*) sur l'étiquette de prix signifie que l'article n'est pas en cours de réapprovisionnement.
S'il y a quelque chose que vous voulez vraiment, *** vérifiez la date d'expiration *** car certains articles en vente Costco se terminent en milieu de semaine.
*** Il s'agit d'une page indépendante gérée par des fans, sans affiliation ni approbation par Costco Wholesale ***
Can it Kirkland est une tendance croissante en ligne. Un gang d'influenceurs a posté un test de goût à l'aveugle qui est devenu viral. Ils dégustaient diverses boissons alcoolisées. Ce qu'ils n'ont pas testé, c'est le café. Saviez-vous que plusieurs des cafés Kirkland sont biologiques ? J'ai été surpris aussi. Le café est quelque chose que nous buvons beaucoup, pourquoi ne pas le rendre bio ? Moins d'apport chimique dont nous n'avons vraiment pas besoin.
Selon Costco, les cafés Kirkland sont un mélange de grains de café d'Amérique du Sud et centrale d'Amérique du Sud et centrale torréfiés foncés et moyens. Récolté à haute altitude (au moins 1 400 mètres) pour un grain de café de qualité supérieure à maturation plus lente qui donne une tasse de café au goût plus raffiné.
Plusieurs variétés de café Kirkland Signature sont torréfiées sur mesure par Starbucks Coffee Company. En particulier, ils comprennent le café Kirkland Signature Espresso Blend de 2,5 livres, le café Decaf House Blend et le café Regular House.
Cool hein ?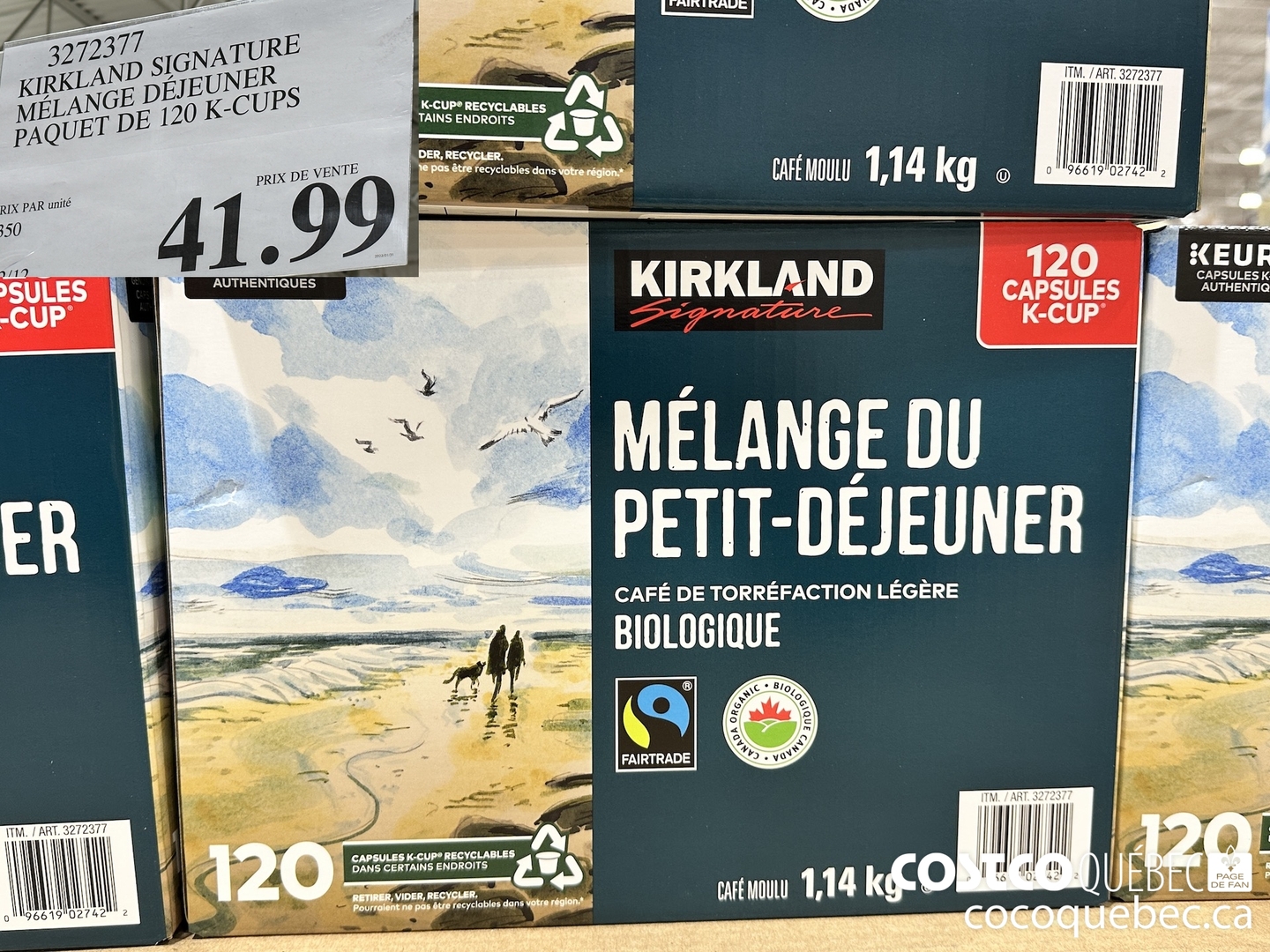 Can it Kirkland is a growing trend online. A gang of influencers posted a blind taste test that went viral. They were tasting various alcoholic beverages. What they did not test was coffee. Did you know many of the Kirkland coffees are organic? I was surprised also. Coffee is something we drink a lot of, why not make it organic? Less chemical intake that we really do not need. 
According to Costco, Kirkland coffees are a blend of dark and medium roasted "specialty grade" USDA Organic South and Central American coffee beans. Harvested from high altitudes (at least 1,400 meters) for a slower maturing, premium coffee bean that gives a more refined tasting cup of coffee.
Several varieties of Kirkland Signature coffee are custom-roasted by Starbucks Coffee Company. In particular, they include the 2.5 pound Kirkland Signature Espresso Blend Coffee, Decaf House Blend Coffee, and Regular House Coffee. 
Cool eh?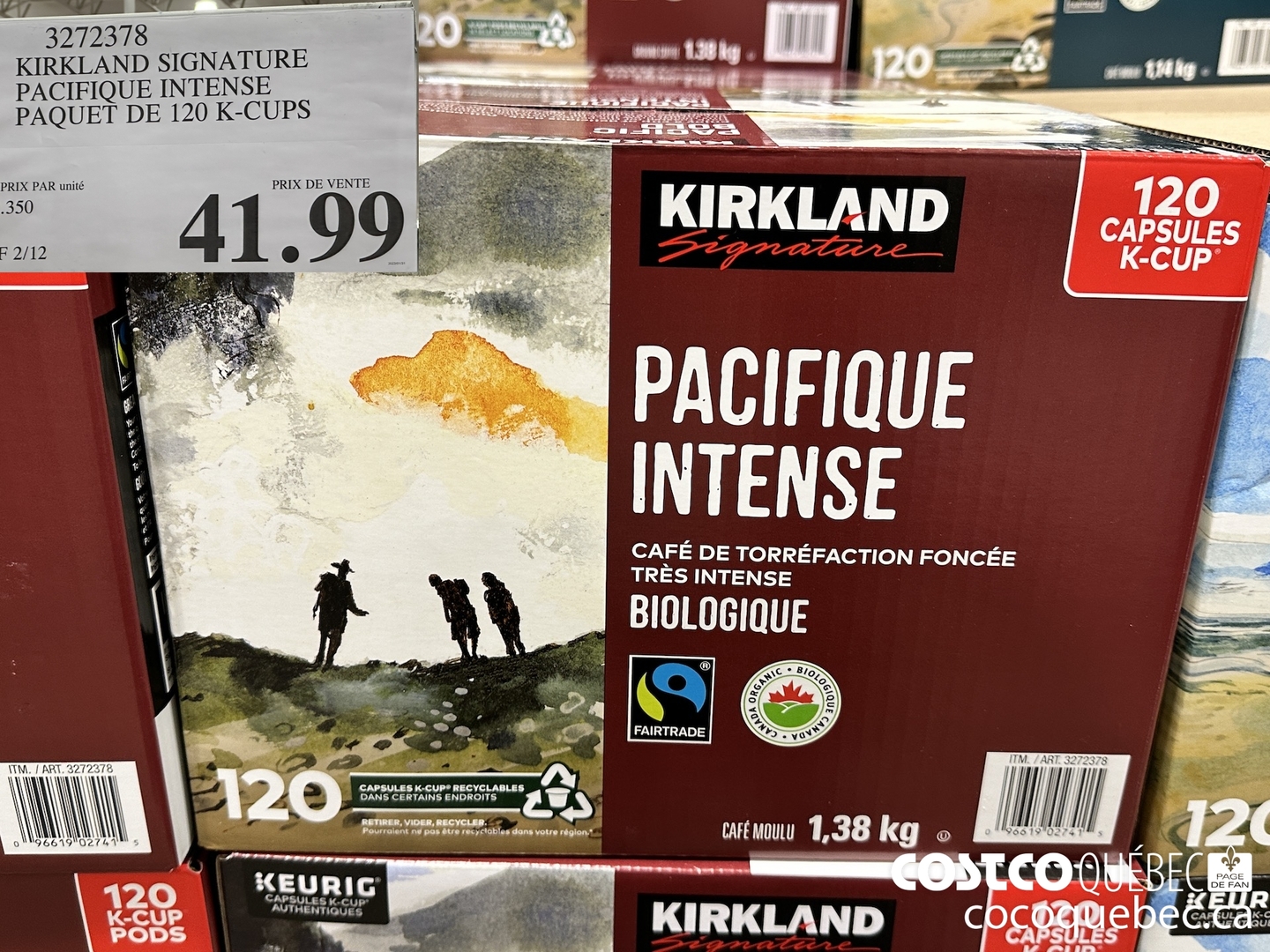 Costco Flyer, Valide du 30 janv. au 26 févr. 2023