In the Wednesday Super Post I pick an 
entire
 section of Costco and take pictures of 
ALL
of the items for you see.
Veuillez noter:
Le prix chez votre Costco local a priorité (ou préséance) sur les prix indiqués sur ce blog.
Les articles Costco Liquidation/Manager's Special (se terminant par .97) varient d'un magasin à l'autre.
Un astérisque (*) sur l'étiquette de prix signifie que l'article n'est pas en cours de réapprovisionnement.
S'il y a quelque chose que vous voulez vraiment, *** vérifiez la date d'expiration *** car certains articles en vente Costco se terminent en milieu de semaine.
*** Il s'agit d'une page indépendante gérée par des fans, sans affiliation ni approbation par Costco Wholesale ***
ENGLISH TO FOLLOW:
Découvrez sans aucun doute l'un des cidres de glace les plus emblématiques de la belle province. Le cidre de glace doux du célèbre vignoble Château Taillefer Lafon. Son nez complexe de pommes congelées, d'ananas et de caramel au beurre avec quelques notes épicées le rend unique et incomparable.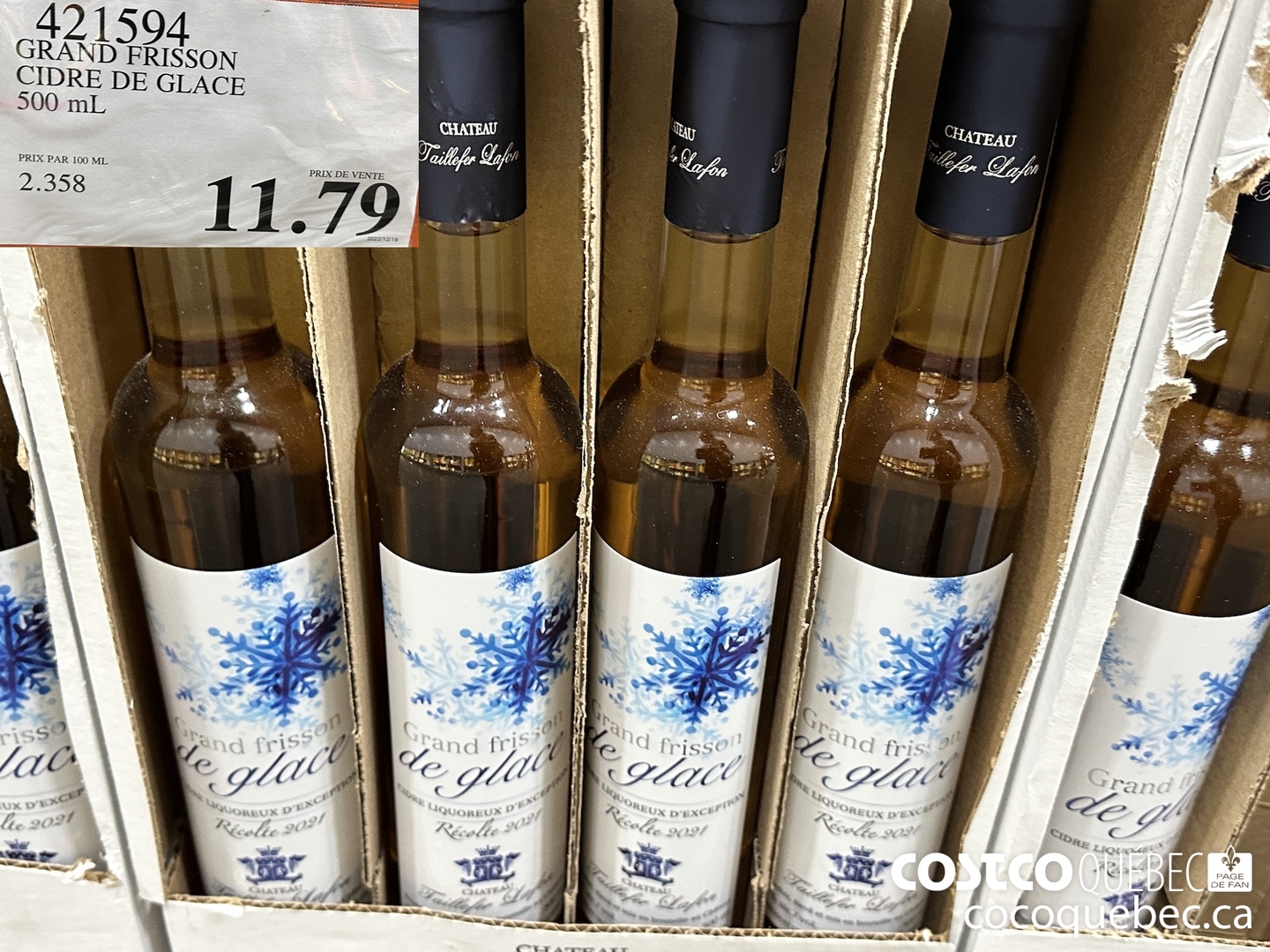 Médaillé or à la Sélection Mondial Canada 2015.
Accord poissons, tapas, terrines, fromage en pâte phyllo
Arômes de pommes fraîches
Cueillies bien fraîches à l'automne, les pommes du cidre sont dès lors pressées. Une longue fermentation et un vieillissement en cuve permettent au cidre rosé pétillant de développer plus de profondeur. Ce cidre pétillant rosé est principalement composé de Geneva, pommes caractérisées par leur chair de couleur rose. Ce cidre présente un taux d'alcool de 6.5%/vol.
Utilisant majoritairement la Geneva, ce cidre rosé pétillant est d'une vivacité et d'une fraîcheur surprenante. Les fines bulles abondent en bouche et ce cidre est agrémenté d'une robe enivrante. Il présente une exhalaison subtile et complexe. Idéal à servir entre 4 et 6 degrés Celsius.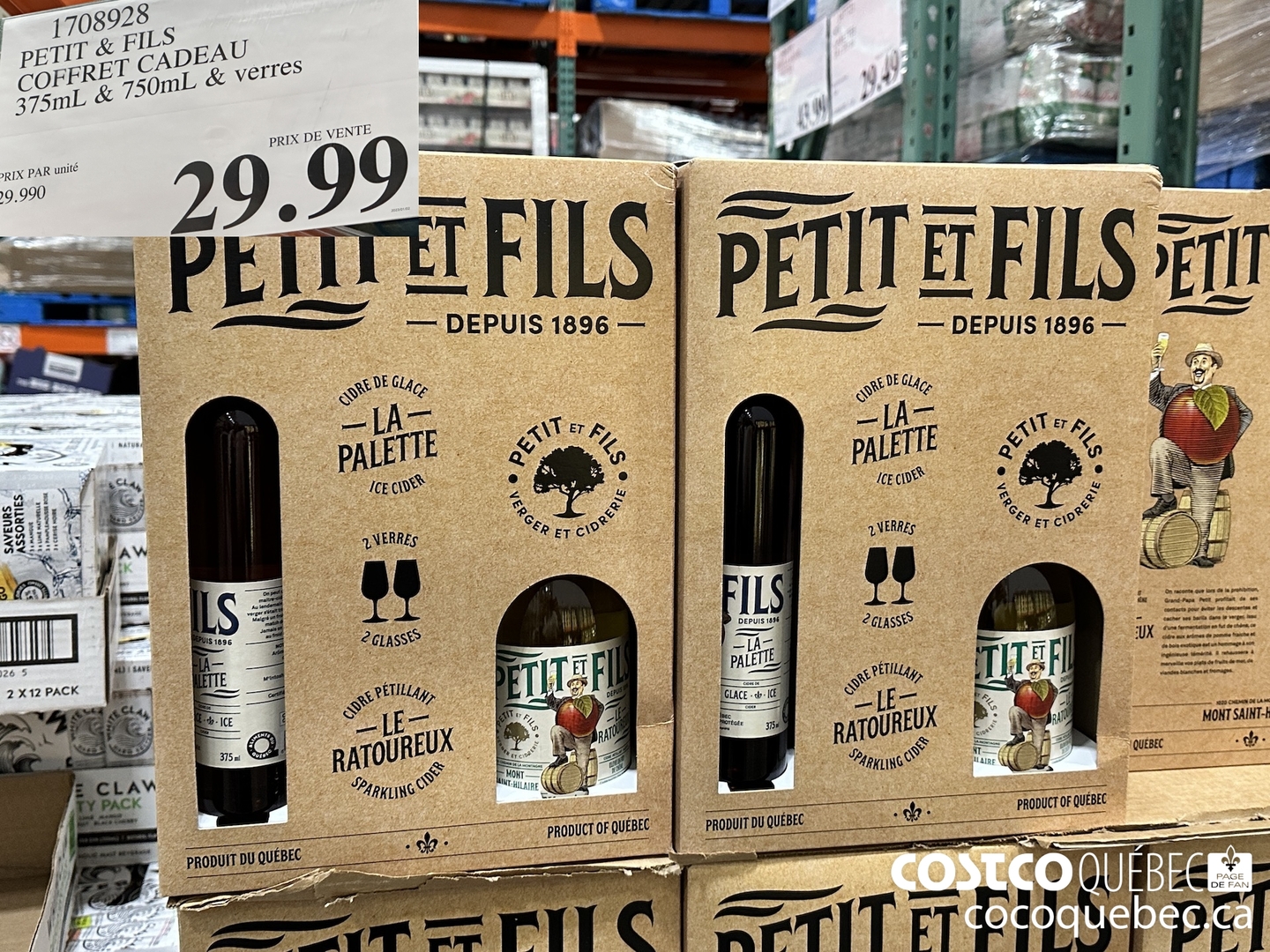 Discover without a doubt one of the most emblematic ice ciders of la belle province. The sweet ice cider from the famous Château Taillefer Lafon vineyard. Its complex nose of frozen apples, pineapple, and butterscotch with some spicy notes makes it unique and incomparable.
Gold medalist at the Canada World Selection 2015. This can be paired with fish, tapas, terrines, and phyllo cheese. The aroma is of fresh apples. Picked very fresh in the fall, the cider apples are then pressed. Long fermentation and aging in vats allow the sparkling rosé cider to develop more depth. This sparkling rosé cider is made primarily from Geneva apples characterized by their pink flesh. This cider has an alcohol content of 6.5 %/vol. Mainly using Geneva, this sparkling rosé cider is surprisingly fresh and lively. Fine bubbles abound in the mouth and this cider is embellished with an intoxicating color. It presents a subtle and complex exhalation. Ideal for serving between 4 and 6 degrees Celsius.
Costco Flyer, Valide du 30 janv. au 26 févr. 2023