Bienvenue à la mise à jour des ventes du week-end de Costco Québec où je vous tiendrai au courant des ventes impressionnantes et des nouveaux articles que Costco lance pour le week-end !
Welcome to the Costco Quebec Weekend Sales Update where I'll keep you in the loop on the awesome sales & new items Costco releases for the Weekend!
La presse française, le piston à café, la presse à café ou La cafetière sont quelques-uns des différents noms utilisés pour cette méthode de préparation du café exceptionnelle dans le monde entier. Une cafetière à piston est un moyen simple mais élégant de préparer du café, et elle est considérée comme l'un des meilleurs moyens d'obtenir un goût riche et audacieux avec moins d'acidité dans votre tasse. C'est facile a utiliser. Faites simplement bouillir l'eau, placez le café dans le fond du récipient, versez l'eau par-dessus et laissez reposer environ 5 minutes pour extraire les saveurs. Poussez ensuite le piston, et le filtre métallique amène le marc de café au fond du pot.
Préparez la tasse de café parfaite avec la cafetière à piston de 1 litre Chambord de Bodum. Le Chambord est doté de verre borosilicate résistant à la chaleur et de poignées, d'un cadre et d'un couvercle en acier inoxydable.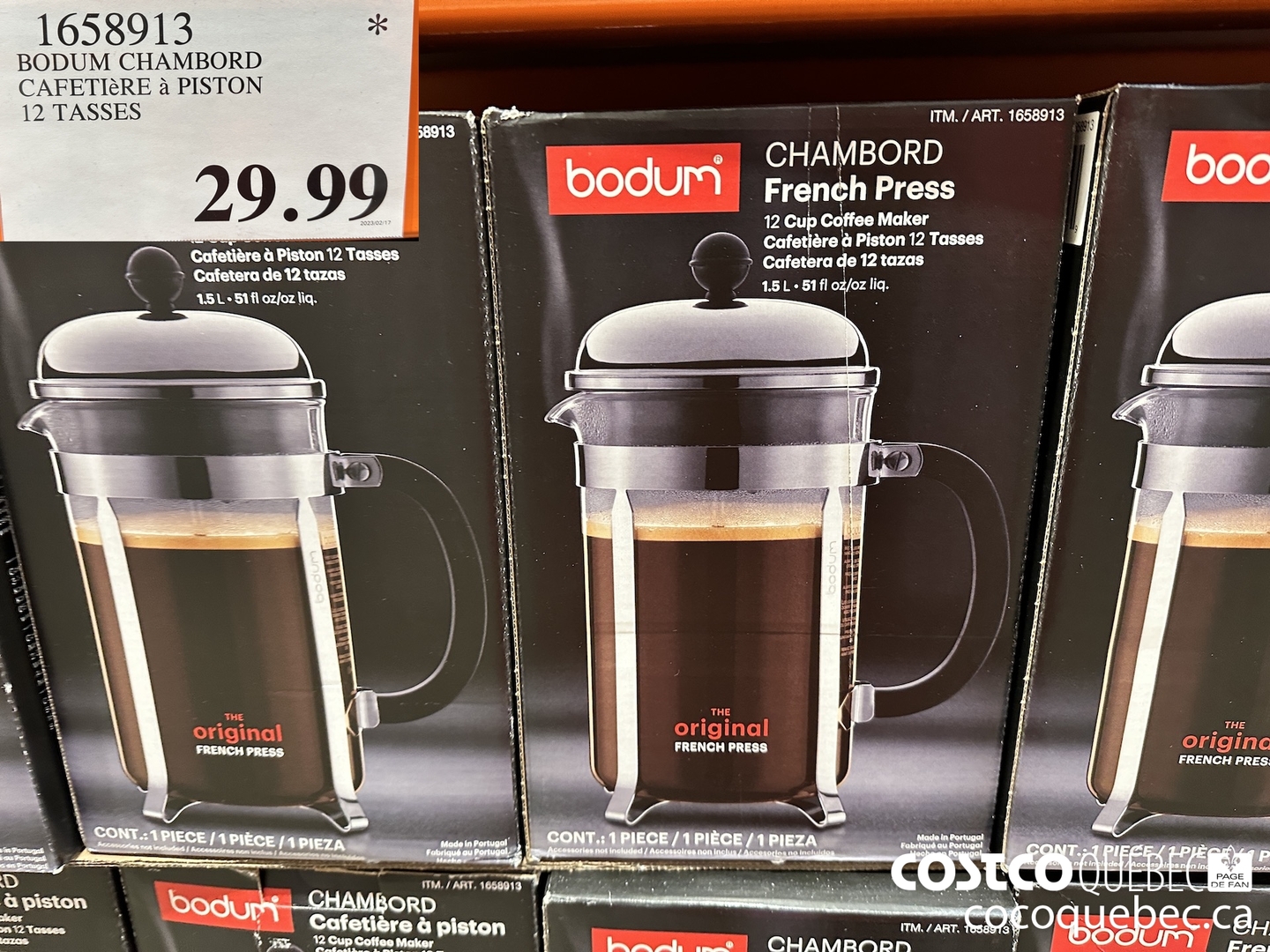 The French Press, coffee plunger, coffee press, or La cafetiere are some of the different names used for this exceptional coffee brewing method worldwide. A French press is a simple yet elegant way of brewing coffee, and it is considered one of the best ways to get a rich and bold taste with less acidity in your cup. It is easy to use. Simply boil the water, place the coffee in the base of the container, pour the water over the top, and let it rest for about 5 minutes to extract the flavors. Then push the plunger, and the metal filter takes the coffee grounds to the bottom of the jar.
Make the perfect cup of coffee with Bodum's 1-Litre Chambord French Press Coffee Maker. The Chambord features heat-resistant borosilicate glass and handles, stainless steel frame and lid.