In the Wednesday Super Post I pick an 
entire
 section of Costco and take pictures of 
ALL
of the items for you see.
Veuillez noter:
Le prix chez votre Costco local a priorité (ou préséance) sur les prix indiqués sur ce blog.
Les articles Costco Liquidation/Manager's Special (se terminant par .97) varient d'un magasin à l'autre.
Un astérisque (*) sur l'étiquette de prix signifie que l'article n'est pas en cours de réapprovisionnement.
S'il y a quelque chose que vous voulez vraiment, *** vérifiez la date d'expiration *** car certains articles en vente Costco se terminent en milieu de semaine.
*** Il s'agit d'une page indépendante gérée par des fans, sans affiliation ni approbation par Costco Wholesale ***
ENGLISH TO FOLLOW:
L'une de mes friandises préférées est une collation aux fruits Welch's®.
Ils sont fabriqués avec de vrais fruits et contiennent une excellente source de vitamines A, C et E, et ne contiennent aucun agent de conservation.
Les collations de variétés de fruits mélangés offrent une délicieuse combinaison de saveurs que toute la famille adore : fraise, raisin blanc, framboise, orange, raisin blanc, pêche et raisin Concord Welch's®.
Je les garde dans la voiture au cas où je serais coincé dans les embouteillages.
Rien de tel qu'une petite gourmandise pour rendre la conduite moins agaçante.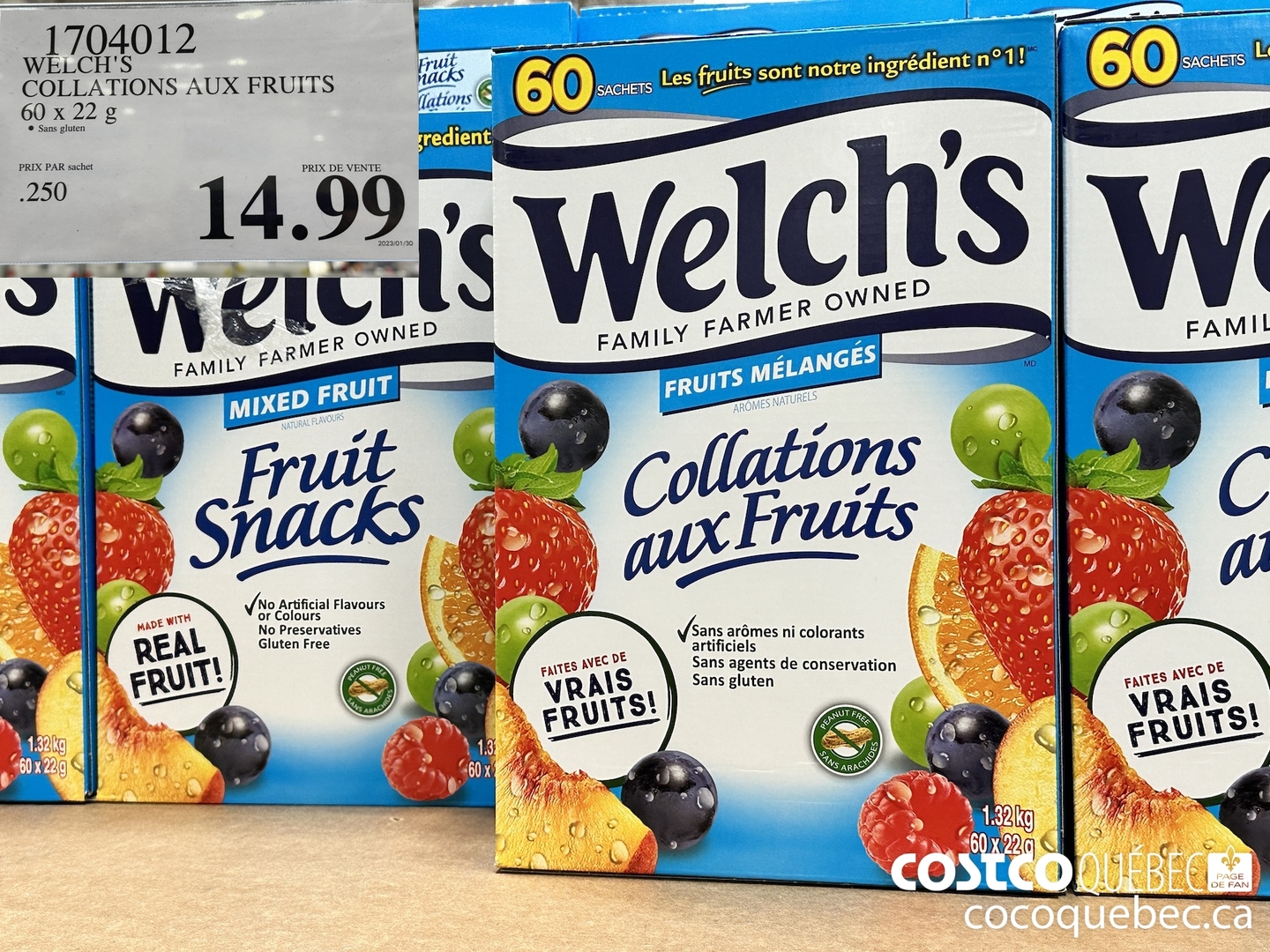 One of my favorite treats is a Welch's® Fruit Snacks. They are made with Real Fruit and feature an excellent source of Vitamins A, C & E, and have no preservatives. The Mixed Fruit varietey Snacks feature a delicious combination of flavors that the whole family loves: Strawberry, White Grape Raspberry, Orange, White Grape Peach and Welch's® Concord Grape. I keep them in the car in case I get stuck in traffic. Nothing like a little treat to make the drive less annoying.
Ventes de 27 février au 12 mars, 2023