Dans le Super Post du mercredi, je sélectionne une section entière de Costco et prends des photos de TOUS les articles pour que vous voyez !
In the Wednesday Super Post I pick an 
entire
 section of Costco and take pictures of 
ALL
of the items for you see.
Veuillez noter:
Le prix chez votre Costco local a priorité (ou préséance) sur les prix indiqués sur ce blog.
Les articles Costco Liquidation/Manager's Special (se terminant par .97) varient d'un magasin à l'autre.
Un astérisque (*) sur l'étiquette de prix signifie que l'article n'est pas en cours de réapprovisionnement.
S'il y a quelque chose que vous voulez vraiment, *** vérifiez la date d'expiration *** car certains articles en vente Costco se terminent en milieu de semaine.
*** Il s'agit d'une page indépendante gérée par des fans, sans affiliation ni approbation par Costco Wholesale ***
ENGLISH TO FOLLOW
Le bicarbonate de soude, également connu sous le nom de bicarbonate de sodium, est un ingrédient ménager polyvalent aux nombreuses utilisations. Voici cinq utilisations courantes du bicarbonate de soude :
Cuisson et cuisson : Le bicarbonate de soude est couramment utilisé comme agent levant dans la pâtisserie. Lorsqu'il est combiné avec un ingrédient acide (comme le vinaigre, le jus de citron ou le babeurre), il crée des bulles de dioxyde de carbone, ce qui fait lever la pâte et la pâte. Il est également utilisé dans des recettes comme les crêpes et les biscuits pour les aider à devenir légers et moelleux.
Nettoyage : Le bicarbonate de soude est un agent nettoyant efficace et naturel. Il peut être utilisé pour frotter et désodoriser les surfaces de votre maison. Saupoudrez du bicarbonate de soude sur une éponge ou un chiffon humide et utilisez-le pour nettoyer les comptoirs de cuisine, les éviers et les appareils électroménagers. Il est particulièrement utile pour éliminer les taches et les odeurs tenaces.
Éliminateur d'odeurs : Le bicarbonate de soude a d'excellentes propriétés d'absorption des odeurs, ce qui le rend utile pour éliminer les odeurs désagréables. Placez une boîte ouverte de bicarbonate de soude dans votre réfrigérateur, votre garde-manger ou votre poubelle pour absorber les odeurs. Vous pouvez également le saupoudrer sur des tapis, des moquettes ou des tissus d'ameublement, le laisser reposer pendant un moment, puis l'aspirer pour rafraîchir la zone.
Soins personnels : Le bicarbonate de soude peut être utilisé dans diverses routines de soins personnels. Il peut agir comme un exfoliant doux lorsqu'il est mélangé avec de l'eau et utilisé comme gommage pour le visage ou le corps. De plus, il peut aider à neutraliser les odeurs dans les chaussures en saupoudrant du bicarbonate de soude à l'intérieur et en le laissant reposer toute la nuit avant de le secouer. Bien qu'Ozzy n'approuve pas, de temps en temps je forme une pâte que j'utilise pour enlever le tartre de ses crocs.
Produits de nettoyage faits maison : Le bicarbonate de soude peut être un ingrédient clé dans la création de vos propres produits de nettoyage. Vous pouvez fabriquer un simple nettoyant tout usage en combinant du bicarbonate de soude avec de l'eau et quelques gouttes de savon à vaisselle. Il est également utile pour éliminer les taches tenaces et les résidus graisseux des casseroles et poêles lorsqu'il est combiné avec de l'eau chaude. C'est super sur le coulis de carrelage.
N'oubliez pas que même si le bicarbonate de soude est généralement sans danger, il est toujours conseillé de le tester sur une petite surface avant de l'utiliser sur une surface plus grande pour vous assurer qu'il ne cause aucun dommage ou décoloration.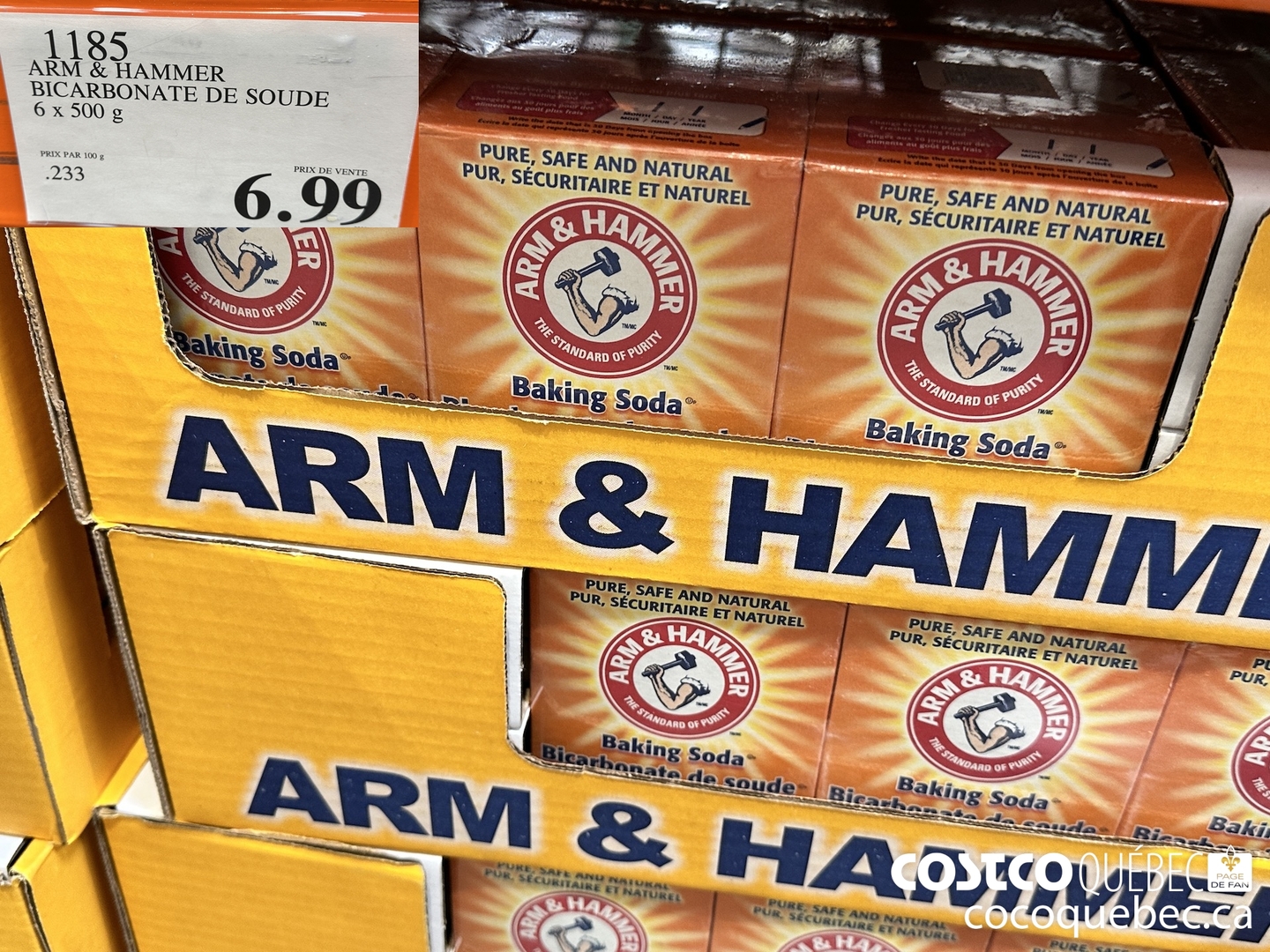 Baking soda, also known as sodium bicarbonate, is a versatile household ingredient with numerous uses. Here are five common uses for baking soda:
Baking and Cooking: Baking soda is commonly used as a leavening agent in baking. When combined with an acidic ingredient (such as vinegar, lemon juice, or buttermilk), it creates carbon dioxide bubbles, causing dough and batter to rise. It's also used in recipes like pancakes and cookies to help them become light and fluffy.
Cleaning: Baking soda is an effective and natural cleaning agent. It can be used to scrub and deodorize surfaces in your home. Sprinkle some baking soda on a damp sponge or cloth and use it to clean kitchen countertops, sinks, and appliances. It's particularly useful for removing stubborn stains and odors.
Odor Eliminator: Baking soda has excellent odor-absorbing properties, making it useful for eliminating unpleasant smells. Place an open box of baking soda in your refrigerator, pantry, or trash can to absorb odors. You can also sprinkle it on carpets, rugs, or upholstery, let it sit for a while, and then vacuum it up to freshen the area.
Personal Care: Baking soda can be used in various personal care routines. It can act as a gentle exfoliator when mixed with water and used as a face or body scrub. Additionally, it can help neutralize odors in shoes by sprinkling some baking soda inside and letting it sit overnight before shaking it out. While Ozzy does not approve, once in a while I form a paste I use to scrub tartar off his fangs.
DIY Cleaning Products: Baking soda can be a key ingredient in creating your own cleaning products. You can make a simple all-purpose cleaner by combining baking soda with water and a few drops of dish soap. It's also useful for removing tough stains and greasy residue from pots and pans when combined with hot water. This is great on tile grout.
Remember, while baking soda is generally safe, it's always a good idea to test it in a small area before using it on a larger surface to ensure it doesn't cause any damage or discoloration.